Laguna Niguel Dental Veneers
Rejuvenate Your Smile at OC Lifetime Dental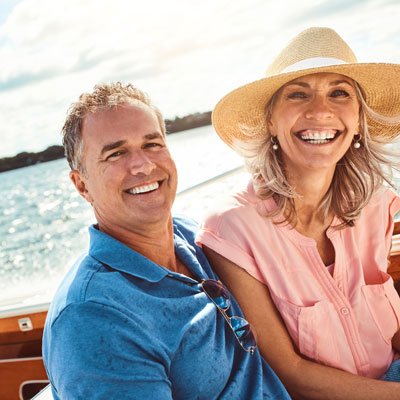 When it comes to smile makeovers with dental veneers, our practice does things differently than most dentists. Here you're able to experience a smile design process that lets you see and feel what your results will look like well before your permanent veneers are made.
What Are Porcelain Veneers?
Dental veneers are thin shells of porcelain that we bond over the front of your upper anterior teeth, changing the way your smile looks. We can match them to photographs of you at a younger age or against pictures you've found in magazines if you like.
By adhering a veneer to a healthy tooth, we instantly change what's visible from another person's vantage point. Veneers give you the fastest and most dramatic smile makeover possible, without having to whiten your teeth or wear braces.
Smile Design: Preview Your Treatment
After we've discussed what you're looking for in your new smile, we'll incorporate your physical appearance into the design process. Everything from your lips, eyes and other facial features are taken into account. We want your new smile to look natural and beautiful.
Your smile design will consist of a series of photographs and molds of your teeth that we use to create a replica (wax-up) of your proposed veneers case. The template will be ready in about 10 days, so we will have you return for a follow-up consultation to evaluate the shape, length and contour of each tooth. If you're not 100% pleased with the proposed design, we can adjust it accordingly until you are.
What to Expect
If you're ready to move forward with treatment, we'll start the process of prepping your teeth. Crowns can be combined with veneers, if needed, depending on if you have teeth with structural damage. We can even create a wearable mock-up that is bonded as your temporary restorations while the permanent veneers are being crafted.
You'll have about 2-3 weeks to wear your temporaries or mock-up to identify any final changes you would like to make. We hold our standards high regarding the exact shape and shade of each veneer and work closely with our lab should even the smallest angle need to be adjusted.
Finally, your permanent porcelain veneers will be ready for delivery. They'll be a better and more aesthetically pleasing replica of the preview you've already been wearing.
Reasons to Get Dental Veneers
Some of the most common reasons why people invest in smile makeovers with dental veneers include instances involving
Always feeling self-conscious about your teeth
Misshaped, chipped or gapped teeth
Deep discoloration and stain
Teeth that are crooked or slightly crowded
Whether you want to look your best for an important upcoming event or simply want to have a smile you feel confident in, dental veneers can make beautiful teeth a reality.
Schedule a Consultation
Are dental veneers right for you? Talk with our cosmetic dentist, Dr. Aveed Samiee, to learn more!
---
Veneers Laguna Niguel, CA | OC Lifetime Dental | (949) 421-5033