Laguna Niguel Teeth Whitening
Get a Gleaming Smile at OC Lifetime Dental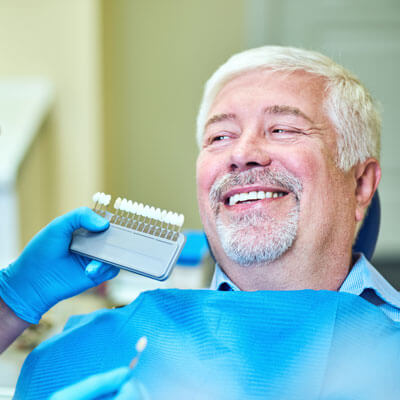 Having a whiter smile can help you feel more confident about your appearance. It also makes a great first impression when you're looking for a new job, getting back into the dating scene or planning for a big event.
Whether you're hoping to enhance your teeth or plan for an upcoming smile makeover, professional whitening is a great place to begin.
Who Is a Candidate for Teeth Whitening?
To bleach your teeth, you'll need to make sure you're free of tooth decay and gum disease. An ideal candidate is someone who has regular checkups and cleanings, without ongoing oral health problems. These criteria eliminate the risk of sensitivity and improve the outcome of your treatment.
Professional vs. Over-the-Counter Products
Using teeth whitening products provided by your dentist is safe and more effective than what you can buy in stores. Because they're administered by a professional, the ingredients in our whitening gels are not only stronger; they're also free of the acidic preservatives that extend the shelf life of over-the-counter gels.
Over-the-counter kits contain acids that prevent them from expiring as quickly (for retail purposes). As a result, they can cause sensitivity, weaken your teeth and damage root surfaces. When they do, stains can build up even more quickly after you use a drugstore kit.
Why Should I Whiten My Teeth?
Because many people don't get the results they want from over-the-counter whitening options, they choose professional whitening. This optimal choice has many benefits:
Enhances your natural smile
Erases years of stain accumulation
Can boost your self-esteem
Quick and affordable smile makeover
Types of Teeth Whitening Treatments
We offer two types of professional teeth whitening to choose from. The one you select will depend on how quickly you want to see results, your schedule and individual preferences.
In-House Whitening
Our office uses a gentle whitening product that's applied directly to your teeth after your gums are protected with a thin barrier. This process reduces your risk of sensitivity and gum irritation after treatment. You can expect to see your smile lighten by 1-3 shades in about an hour and a half.
Take-Home Trays
If you prefer to whiten at home or you have hypersensitive teeth, a take-home system may be your best option. We'll take a mold of your teeth to create a set of customized bleaching trays. Place a small amount of whitening gel inside and wear them for 1-2 hours per day. In just one week, you'll see results 1-2 shades brighter than when you first started.
Show Off Your Best Accessory
Professional teeth whitening can help your smile look brighter and better than ever before. Request a consultation today.
---
Teeth Whitening Laguna Niguel CA | (949) 421-5033