Invisalign® Laguna Niguel
Straighten Your Smile at OC Lifetime Dental
Invisalign is the leader in clear braces technology. Crafted from translucent, BPA-free plastic, these "invisible" alignment trays snap right over your teeth, eliminating the need for metal brackets and wires.
How Does Invisalign Work?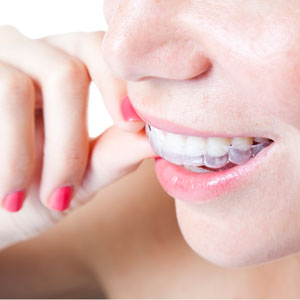 For over 20 years, Invisalign has been using constantly modified state-of-the-art technology and oral mapping strategies to move teeth. The system creates a series of modified alignment trays to nudge, turn and guide teeth into proper alignment. Since the aligners move a tooth from all different sides, they can work predictably and efficiently.
Just change your Invisalign trays out every two weeks and move on to the next set. We will see you about every 6-8 weeks to monitor your progress and send the next several trays home with you.
Invisalign vs. Braces
Adults and teens who choose Invisalign over conventional braces can enjoy many benefits, including
Freedom to eat or drink whatever you want
Easy home care and maintenance
Fewer and shorter appointments
Form-fitting trays without metal wires or appliances
Discreet treatment that doesn't draw attention
Lower risk of tooth decay and gum disease
Wearing Invisalign can help you improve your oral health. But if aesthetics and the appearance of your teeth are your primary concern, orthodontic aligners can help with that, too!
What to Expect

When you first come in for an Invisalign consultation, we will examine your teeth and oral structures to find out if you're a candidate for treatment. If you qualify as a candidate, we'll discuss how long your case will typically take to treat, as well as the estimated cost of your braces.
Once you are ready to move forward, we'll take a series of molds, photographs and X-rays to send to Invisalign. In about 2-3 weeks, your first alignment trays will be ready to wear. Most of our patients need a few "buttons" to go along with their aligners. These tooth-colored extensions provide the tray with a surface to grip onto when teeth are rotated or significantly misaligned. We'll gently bond them into place when you pick up your trays the first time.
Change your aligners out as directed and remove them during every meal. Brush and floss as usual, then put your trays back in. We'll see you at intermittent times to ensure things are moving along properly and send you home with the next sets of aligners.
After you've completed treatment, we'll fit you with a retainer to maintain your results and prevent relapse.
What's Invisalign Teen?
Teenage patients who qualify for Invisalign will have healthy teeth and be responsible enough to change their aligners out as prescribed. Each tray comes with a built-in wear indicator to monitor your teen's progress!
Request a Free Consultation
Our complimentary Invisalign consultations give you the answers you need and the information you want. Request an exam for yourself or your teen today!
---
Invisalign Laguna Niguel, Mission Viejo CA | (949) 421-5033